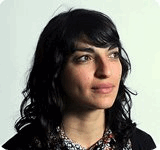 Bani Khoshnoudi was born in Tehran in 1977. She was two years old when her family immigrated to the United States in 1979, during the Revolution. After studying photography and film, she moved to Paris, France in 1999 where she started making films. From 2001 to 2003, Bani was artistic director and production coordinator for the documentary series, The Other Iran, produced by Article Z and ARTE, with the collaboration of 8 European TV channels.
In 2004 she directed Transit, a medium-length fiction that received the Best Screenplay prize at the Rencontres Cinématographiques de Gindou, and later went on to win Grand Jury Prize at the Premiers Plans Angers Film Festival, and which played in a number of international film festivals: Rotterdam, Sao Paulo Mostra, Göteburg, Larissa, Brooklyn, Côté Court, Tribeca, Villeurbanne, ARTE East NYC, Flying Broom Ankara, etc. The film was nominated for the Jean Vigo Prize and the Critic's Prix Novaïs-Terxeira in 2005.
In 2005, Bani directed SHIRIN EBADI : A simple lawyer, feature documentary about the Iranian Nobel Peace Prize winner, commissioned by the French channel ARTE, and produced by Les Films d'Ici. The film played in many international festivals and on television around the world (France, Germany, Japan, Belgium, Poland, Italy, Sweden) and is part of hundreds of university library collections.
In 2006, Bani founded her production company, Pensée Sauvage Films to be able to make independent films in Iran. In 2007 she produced and directed a feature length documentary about Tehran, A People in the Shadows, which was winner of two grants from the Jan Vrijman Fund (IDFA). The film played at IDFA, Cinéma du Réel, Dokfest Munich, EDOC Festival, It's All True (Brazil) as well as many other international festivals. It was given Jury's Special Mention at the Docs DF Film Festival in Mexico City.

In addition to filmmaking, Bani makes more experimental work in the form of installation and video projection. Her video and sound installations and projections have been showed in galleries and alternative spaces in New York, Berlin, Mexico City, Tehran, Paris… In 2008, Bani was invited as a Studio Artist to participate in the independent Study Program of the Whitney Museum of American Art in New York City. There she developed her ideas on modernity, memory, exile and displacement through more experimental work including sound, installation, texts and projections. Collaborating with different film festivals and venues around the world, Bani also curates film programs, mostly of Iranian work, past and present.

In 2008, Bani was invited to the prestigious Artist in Residency program of the Whitney Museum of American Art in New York. She completed the year long residency there and exhibited a sound installation at Art in General in New York City.

In the fall of 2009, Bani was selected for the Cinéfondation Writing Residency (Cannes Film Festival) where she wrote her first fiction feature, Ziba. She produced it independently in Iran through Pensée Sauvage Films, and made a co-production with France, obtaining the support of the prestigious Fondation Groupama Gan Prize and the Fonds Sud. The film was shot on location in Tehran in 2011 and showed at the Rotterdam International Film Festival in the BRIGHT FUTURE section, in Dubai Intl. Film Festival in Competition, at Göteborg Intl. Film Festival, FICUNAM in Mexico, CPH PIX, Trondheim, Beijing.. .

In 2014, Bani revealed her identity as the director of The Silent Majority Speaks, a film that had been made in a completely anonymous way about the events in Iran in 2009. The film was nominated by Nicole Brenez for the PRIX SCRIBE in France, and had its first public screening in April 2014 at Lincoln Center in New York as part of the ART OF THE REAL film series.

Since 2009, Bani lives in Mexico City. She is currently writing her second feature, Fireflies, which will take place in Veracruz.